OUR PEOPLE
It takes strength and courage to stay commited to a lifelong cause. It requires physical, mental, emotional and spiritual strength to serve out of a motive of pure love.
Sri Arunodayam employs well qualified and experienced people, as our growth depends entirely upon the team's efficiency. Our people help make the impossible possible.
Board Of Trustees

Founder & Managing Trustee
Iyyappan is Sri Arunodayam's Founder & Managing Trustee. He is also the Administrator, leading both Board and Staff teams. He is directly involved in the planning and execution of all child welfare programs and is responsible for organizational planning, financial planning, budget preparation, action plan development, decision execution, resource mobilization, and policy making. Iyyappan has Bachelor in Psychology and Bachelor in Law Degrees, and is a Post Graduate in Law specializing in Constitutional Law and Human Rights.

Ranganathan Chetty is a Trustee and a Chartered Accountant by profession. He has 40 years of experience with Chevala & Company Chartered Accountants. He is associated with many service organizations including Lions Club International, Vasavi Clubs International, and International Vaish Federation (IVF). He is the Treasurer of BSHIP Chennai Innovators – an organization for business networking exclusively for the Arya Vysya Community, and is associated with VASAVI WEB TV.

Nanda Kumar is a Trustee and an IT Software Engineer by profession. He is a Post Graduate in Information Technology with close to two decades of experience, working primarily in India, the United States, and the UK. Nanda Kumar has been associated with Sri Arunodayam since 2004. He considers it a great honor to be on the Board and to be associated with what Sri Arunodayam represents.

Radha is a Trustee and an Educationist by profession. She is a retired Headmistress from Padma Sarangapani Matriculation Higher Secondary School Villivakkam, Chennai. She is a highly active social worker – very well connected in the education field and highly recognized and acclaimed by the Lions Club. Radha espouses social causes, drives campaigns, and mobilizes funds for social welfare projects. She is a well-loved figure at Sri Arunodayam, and the children consider her to be their mother.
Our Legal Advisors
Mr.T Thangavelu – Advocate – Madras High Court
Our Auditor
Mr. Subaschandran – K M Mohandass & Company
Office Staff and Assistants at the Girls Home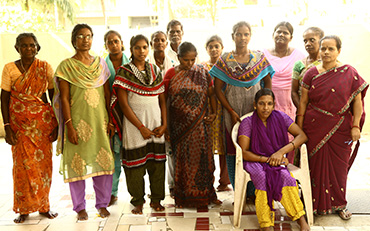 Staff at the Boys Home