OUR STORY
Back in 2002, a young boy, deeply concerned by the plight of abandoned children with intellectual disabilities (ID), made a life-altering decision.  Instead of choosing any of the well recognized careers of his time, he decided to dedicate his life to the cause of the intellectually disabled. He learned how to become a professional care-giver while doing his best to eradicate the social stigma attached to this condition.
Iyyappan Subramaniyan founded Sri Arunodayam (a Registered Charitable Trust) and began his critical work with a single child on May 22, 2003.  Having firsthand experience with an elder brother who had Down syndrome, Iyyappan and his family had faced society's harsh judgement and indifference in his village in Thiruvarur district. The complete lack of awareness and medical facilities at that time, made him realize the urgent need to work for this marginalized section of humanity. He pursued an education in the field of disability and rehabilitation and learned that very few organizations in India actually work for destitutes with intellectual disabilities. And so, he threw open Sri Arunodayam's  doors to all such children deserted by their families.
Recognitions
Recognizing the good work being done, the Government of Tamil Nadu (under the Juvenile Justice Act by the Department of Social Defense) certified Sri Arunodayam as a Reception Unit in 2008. And the recognitions continue.
Recognized under the Juvenile Justice (Care and Protection of Children) Amendment Act 2006, as a Children's Home for the Mentally Challenged Destitute
Registered under the National Trust Act 2000
Registered under the Persons with Disabilities Act 1995
Declared a Fit Institution in 2005 by the Child Welfare Committee, Chennai, Government of Tamil Nadu
Licensed under Food Safety & Standards Act, 2006 (Government of Tamil Nadu)
Registered with Credibility Alliance, Mumbai
Recognized by Give India Foundation
Certified top-ranked, vetted organization by GlobalGiving Foundation, USA
Certified GuideStar India member – Advanced Level Gold Certification (https://guidestarindia.org/Summary.aspx?CCReg=484)
Given 12 AA and 80 G tax exemptions by the Income Tax Department under the Income Tax Act 1961
Registered under the Foreign Contribution Regulation Act 2010 to receive overseas donations
Winner of the prestigious World of Children ® Award 2016 – Considered to be the 'Nobel Prize' for heroic work with children. Iyyappan was one of only 5 honorees from across the world and the only one from India to receive this award in 2016. For more information, visit : https://sriarunodayam.org/world-children-award/
Winner of the Saksham Award 2018 for service to special children
Winner of the award for services to abandoned differently abled children in 2018, from the Puvanagiri Anti-Corruption Association, Cuddalore
Winner of the 'Good Samaritan' Alert Being Award 2019
Winner of the prestigious Association of People with Disability (APDI) – N S Hema Award in October 2019 for exemplary work in the field of disability.
From a single child in 2003, Sri Arunodayam has come a long way. We've rescued 364 children of which 100 have been reunited with their families, and 56 were transferred to other homes for specialized care. Due to the nature of their illness the mortality rate of these children is high. Despite providing the best medical care we can afford, many of them don't make it. At present, we have 106 precious lives in our care.
Thus, from a simple home providing shelter, care, and protection, Sri Arunodayam is now a facility that is also focusing on rehabilitation through education and therapies that are helping improve the quality of life of these children, enabling them live as independent individuals contributing to society.
About the Founder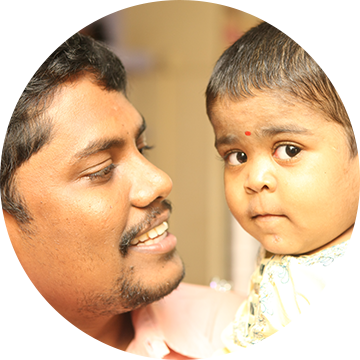 With the help of well-wishers, donors, and volunteers, Iyyappan Subramaniyan has established an excellent system for the efficient functioning of his organization.
His ground-breaking work has been recognized nationally and internationally.  He was nominated as a Global Fellow in the Youth Action Net Global Fellowship Program in 2008; nominated as a Changeloom Fellow in the same year; and in 2010, the US State Bureau of Educational & Cultural Affairs invited him to the United States for the International Visitors Leadership Program.  Nationally, Iyyappan's work has been recognized and awarded several times by the Lions, Rotary, and Round Table Clubs.
Recently, he was honoured by the Anti-Corruption Association, Cuddalore, Tamil Nadu.
Iyyappan's vision goes beyond Sri Arunodayam. By working to educate both urban and rural communities, he hopes to create a paradigm shift in society's acceptance and integration of the differently abled through equal opportunity programs.
Celebrating 20 years of service